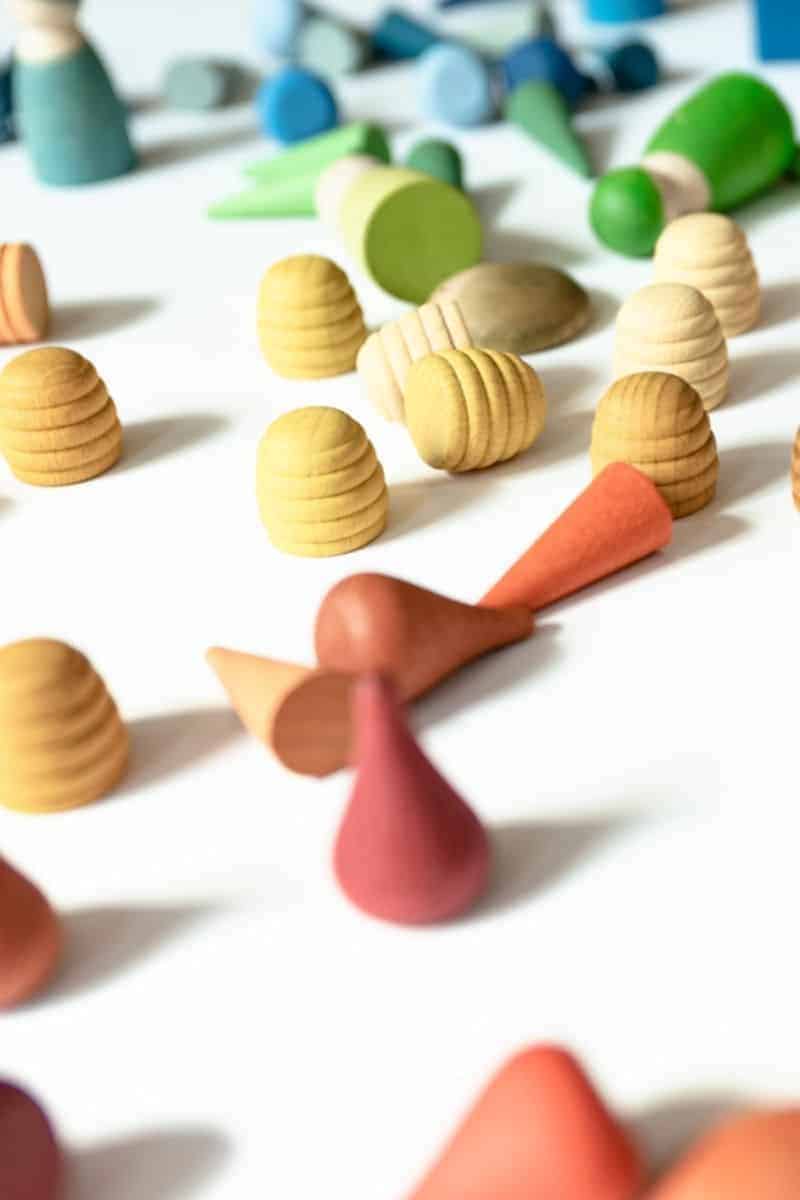 Using Loose Parts Play and Tinkering to Foster Creativity
Play is about exploring and imagining, and nothing fosters creativity like loose parts play. Although we often think about educational toys and set curriculum for homeschool, traditional school, and even home play, using loose parts and tinkering to foster creativity is not only great for play purposes but for brain and physical development.
Designing Play Spaces with Tinkering in Mind
Consider designing play spaces with exploration in mind. Imagine you are watching a group of young children play in a room designed for tinkering and free play. You notice some playing with toys on shelves, taking things out, setting things on tables leaving them haphazardly on the floor. The children may notice that through their selections, they have created a collection. They may look at the puzzle dumped from its mold, the beads strewn on the carpet and the blocks nearby and start to make connections. You observe them play, and they have now created towers with blocks and puzzle pieces in an elaborate pattern with a bead at the top of each. Next to the builders, a toddler dumps out a basket of blocks. She then moves on to another basket of tubes and dump it out, too. It may appear to a casual observer that the toddler is simply making a mess. Actually, this is her research! In her dumping out she is learning about what those materials do. And she's getting ready to make connections. When designing play spaces, keep in mind that they should allow for this flexibility. Children should have the ability to make a "mess" in order to tinker and create.
Using Real-Life Materials in Play
Play is an essential component to human learning. There are stacks of research about the importance of play and its impact on learning and creativity. In his groundbreaking book From Play to Art, artist and art educator George Szekely talks about making the real things in a child's life available to them in order "to get ideas". A child is exposed to some raw materials and they get ideas on how to use them while touching, looking, rearranging. This idea especially resonates with an adult that has given a young child a new toy and the thing the child is most captivated with is the box. A very powerful play "permission slip" a parent can grant their child is to put objects from the "real world" into their child's world. A tray filled with different sizes of nuts and bolts and a magnet will inspire more creative thought than giving your child a plastic toy that looks like a screwdriver. Naturally there are child safe adjustments to make for different ages as well as differing needs for parent supervision. There are many themes you can create if desired, but it's even more powerful to let your child be the creative guide. There are no limits to what you can do with your imagination! Below is a brief list of suggestions by age. The only parameters are age appropriateness for safety.
Making Suggestions to Foster Creativity
Remember that setting out tinkering materials for your child is the practice of making a suggestion. In the child-centered educational pedagogy that is inspired by the work of the Reggio-Emilia schools in Italy, materials like this are called "provocations". You are making a suggestion or posing an idea with the materials you set out. The next part is to simply observe your child and watch them engage. After you do a few of these observations, you will likely be inspired by other items your child would be inspired by. Remember that any messes created during creativity are part of the process and research of play. Let your child have a space where this is encouraged and allowed. Fostering your child's innate creativity is exciting and will be a bonding experience. Have fun with your child using loose parts and tinkering to foster creativity.
Loose Part, Real-Life Material Suggestions for Tinkering
Ages: 0-2.5
Plastic divided lunch tray, muffin tins, plastic bento box, small laundry basket
Cheerios and a shoelace,
Leaves/paper/edible finger paint
Squeeze bottle with water and dark paper
Pine cones/palm-sized rocks/flowers/paper
Bath tissue tubes/paper towel tubes/blue masking tape cut into 3+" strips/ping
Ping Pong balls
2.5-5
Wooden box with dividers, cafeteria tray, metal lunch box, cylinder shipping container
Artificial flower petals/wire/wooden beads/feathers
Large marbles/glass pebbles/magnifying glass
Transparent colored game pieces/battery powered candle/magnifying glass
5-10
Cardboard boxes, wooden trays with dividers, buckets, baskets, laundry basket,
Stainless steel bowl, crates
PVC pipes/electrical tape/hose/water source
Large rocks/yarn/paper/white glue
Wire/beads/corks/bottle caps/old keys