Toys to Encourage Active Play
Best toys for toddlers
When selecting toys for the kids play space I try to be very intentional. I focus on choosing things that are high quality, made of natural and eco-friendly materials, open-ended and suitable for multiple age groups.
Play. Learn. Thrive.™ only endorses products we authentically love and use. Some of the product links in this post may be affiliate links. That means that if you click them and make a purchase, this site makes a commission. Play. Learn. Thrive.™ is also an Amazon Associate. As an Amazon Associate, we earn from qualifying purchases. It will have no impact on the price you pay or the experience of your purchase. 
We do try to be more minimalistic in our approach but I have a ways to go before I feel like I can say I'm truly a "minimalist." I do believe very strongly that less truly is more, especially when it comes to toys.
As a general rule, I try to stay away from standard plastic (but make an exception for a few items like LEGOs and toys made from recycled materials) and we have zero toys that light up, make noise, or talk to the kids.
Keep in mind that the more a toy does, the less your kid has to do. You want THEM doing the thinking, visualizing, and creating. Passive play is NOT the play we want to promote.
Here is a helpful video for understanding what it means to be an open ended toy.
15 Top Playroom Must Haves
These are my (and my kids!) favorite playroom items. Everything on this list gets played with and while we are a little heavy on certain things (like trucks!) I do try to purge every now and again to make sure that we haven't strayed from our goal of having a very intentional and functional play space.
The Nugget: This amazing foam play couch is perfect for gross motor development and also encourages creativity and imaginative play. It's super easy to clean and a playroom must have for kids of all ages.
We just released a Nugget Product Review on our YouTube channel. Which you can watch here.
Lily and River Little Climber (Pikler triangle): Another gross motor piece that can be used in many different ways. Younger babies can practice crawling and pulling up, and toddlers can climb and jump–all ages benefit from using this piece to develop strength, balance and coordination. Shop it at one of our favorite online stores, The Natural Baby Co.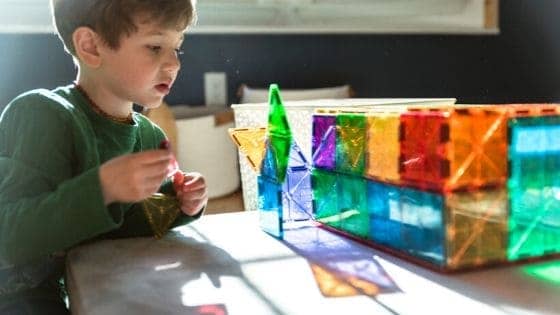 Magna-Tiles: These are an absolute favorite with my older one. He loves to build and will spend literally hours playing with these. They are perfect for encouraging critical thinking, hand/eye coordination, spatial awareness, early math skills, creativity and concentration. I will only order the Magna-Tile brand as magnets are one of those things that can be dangerous if swallowed–and I want to buy from a company I know ensures the quality and safety of their product.
Blocks: There is a reason wooden blocks are a classic toy that never goes out of style. Simple blocks are a great way to promote creativity, problem solving skills, fine motor skills, language development, social skills….you name it, block pretty much has it covered. We have a few sets including just standard wooden blocks, tunnel blocks, smaller colored blocks that are great for on the go, and Tegu blocks.
LEGOs: Another classic that ALL kids should have for building. One thing to note is that you don't need to buy all the pre-designed sets–it's actually better for kids to just have to good old "regular" LEGOs to encourage creativity.
We do have a few of the sets (we "needed" some truck parts) but it's not necessary and I find the kids play mostly with the regular LEGO blocks and just add onto the sets anyways.
Peg people: Instead of action figures, we like to have peg people. Our favorite are the Grimm's ones. They are a beautiful wood and stained with non-toxic wood stain. They leave more to the imagination.
For example. Henry often uses the red peg person as a firefighter. In that he is using more creativity to envision the firefighter than if he just had a little firefighter figure.
Again, the more a toy does the less your little one has to do. This is a simple way to encourage imaginative play.
Doll house and accessories: Doll house play is important for girls AND boys as it encourages social skills and allows children to practice real life situations. We have this incredible doll house by Elves and Angels. You can also get a beautiful wooden dollhouse from Plan Toys.
Silk scarves: These are an absolute favorite in our house. The kids tie them around their neck and pretend they are super heroes, they put them over their head and pretend they are ghosts, they drape them over the nugget to make a fort. The possibilities are endless. We love Sarah's Silks–they are beautiful dyed and so soft.
Wobbel board: What looks like a simple curved piece of wood is actually an amazingly versatile "toy." My kids use this to practice balance, to rock, to slide and to build. It becomes a tunnel, a road, a bridge, a see-saw…it's a great addition for open ended play.
Gonge riverstones and hilltops: We love these for making obstacle courses. They are great for climbing, balance, and coordination. Make sure to buy the Gonge version…other versions do not have the rubberized bottom and will easily slip. You can get the river stones here and the hilltops here.
Animal figurines: We love to have a decent amount of animal figures for pretend play. We have a mix of wooden Holztiger and Schleich animals. We love the Schleich because they are high quality and extremely lifelike. They are great for outdoor or bath play because they are super durable.
We invested in some wooden animals by Holztiger because I loved that they a large and easy to stand up and stack without falling over. They have a decent weight to them so they are a good choice if you're thinking about the tactile aspect of the figurine.
We also have this amazing animal book that helps the kids make connections between what we read and their play animals.
Play kitchen and accessories: I think every kid needs a play kitchen–we have this one.
It's so important for children to have access to toys that allow them to act out real life situations. This is one place where I often see people buying mass quantities of plastic play food and that's a big no for me.
We have maybe 10-15 pieces of food, a set of stainless steel pots and pans, and then I got a few mini kitchen silicone and stainless utensils at Marshalls for under $10.
We love this Plan Toys Tea set for our playroom "indoor" kitchen.
*On a side note*
We love to have this Green Toys tea set which is perfect for our outdoor mud kitchen (another must have!) Our mud kitchen is from Monarch Studio Boston which is a mama run Etsy shop that does incredible work–and she's just the sweetest to work with.
They definitely do not need the pizza set, the sandwich set, the salad set, the baked goods set….pick one or two you love (I prefer to stick to basics). We love the fruits and veggies from Plan Toys.
Cars, trucks and things that go: If you have a kid like mine you probably have one million vehicles. We are currently working on pairing down our stash of cars and trucks to make room for a few higher quality wooden.
Our favorite vehicles to have on hand would be anything from Fagus, these Plan Toys Wooden trucks and trucks from Green Toys are great for outdoor play.
This bendable road by WAYTOPLAY is also a MUST for car and truck loving kiddos. We also love this Moover ride on truck.
Dolls and accessories: Care-taking is another important life skill that begins with play. Girls and boys should have equal access to dolls.
Our favorite dolls are from Haba and Kathe Kruse. We also love this little beanie doll. My son sleeps with this guy every night–he's named him Jack.
Loose parts: This is one most people might think is crazy BUT I promise kids love them. And there is a reason they love them. They are things that can be moved, taken apart, combined, carried, just used in so many different ways.
There are NO rules to how you play with loose parts. This concept is a huge part of the Reggio Emilia philosophy and encourages creative play helps develop pretty much every skill imaginable. Some of our favorites are rocks, pine cones, sticks, shells, acorns, leaves…..
You can purchase loose parts from various Etsy shops, but one of the bigger brands that make beautiful loose parts is Grapat. You can find them here -they are made by a small shop in Spain so they go out of stock very quickly.
You can check out a video about loose parts and more on our YouTube channel.
Our Favorite Toy Brands
Love this post? Check out some of the articles below.